The Government emphasises that schools are required to ensure that key 'British Values' are taught in all UK schools. The government set out its definition of British values as:
democracy
the rule of law
individual liberty
mutual respect
tolerance of those of different faiths and beliefs
During our Britishness Week, 1st - 5th July 2019, students have been shown this powerpoint presentation to help explain these values:  Fundamental British Values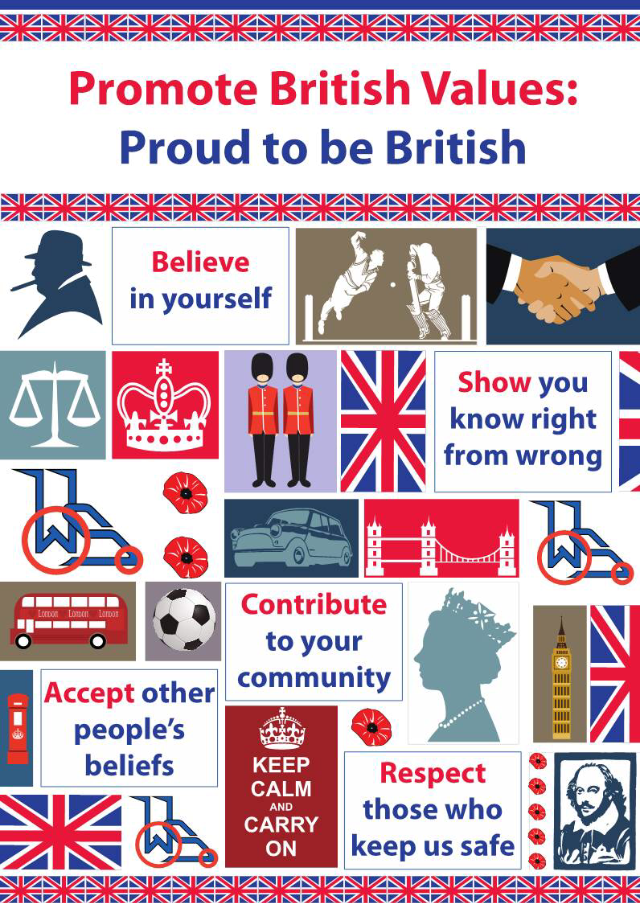 Mutual respect
Respect is at the core of our Centre ethos and is modelled by pupils and staff alike. The Centre promotes respect for others and this is reiterated through our classroom and learning environments. In line with our commitment to democracy pupils are always able to voice their opinions and we foster an environment where students are safe to disagree with each other.
Stevenage ESC uses strategies within the National Curriculum and beyond to secure such outcomes for pupils. Here are some examples of when British values are shared:
Curriculum themes and topics
Our curriculum prepares children for life in British Society; this includes developing the understanding and use of money, effective reading and writing skills, collaboration and discussion to research ideas and concepts. Curriculum themes include historical and geographical study in the context of the United Kingdom as well as national and international comparisons. Topic examples: World Wars I & II - In Art the projects that are undertaken with other countries encourage tolerance and mutual respect. RE and English look at different cultures through direct teaching and reading different kinds of literature.
Individual liberty
Pupils are actively encouraged to make independent choices knowing that they are in a safe, secure and supportive environment. As a Centre we educate and provide boundaries for students to make choices safety, through the provision of a safe environment and an empowering education. Pupils are encouraged to know, understand and exercise their rights, responsibilities and personal freedoms and receive advice about how to exercise these safely, for example through our exploration of E-Safety in computing and their tutor time activities.
The rule of law
The importance of laws, whether they be those that govern the class, the Centre, or the country, are consistently reinforced throughout regular school days, as well as when dealing with behaviour and through group lessons. Pupils are taught the values and reasons behind laws, that they govern and protect us, the responsibilities that this involves and the consequences when laws are broken. Visits from authorities such as the Police and Fire Service are regular parts of our calendar and help reinforce this message.
During Britishness Week 2019 (1st - 5th July) students have been encouraged to consider what Britishness means in their different lessons across the curriculum:
KS3 Cooking:
Students have been given opportunity to develop awareness of A to Z breads from around the world
Students have taken part in a teacher led quiz and learned about different breads and their origins
Students have developed awareness of recipes that are considered to be British and took part in a brain mapping activity listing as many different recipes they could think of that would be considered British
Students were able to make a Fish and Chips recipe which they served in a newspaper cone with a wooden chip fork.
KS3 Textiles:
Students were given the opportunity to decorate a crown using a variety of textile materials; buttons, glitter, fabrics and costume jewellery
Students learned facts about the Pearly Kings and Queens and joined in a teacher led activity where they retrieved information from memory
Britishness Week at SESC
Pupils explored aspects of Britishness in lessons:
Cooking for Life
Students worked collaboratively to make flags of the world marshmallow lollipops. Each student made 6 flags of the world marshmallow lollipops, which were then placed together to make a collage of different flags of the world. Mr Nearney the Head of SESC and Ms O'Sullivan Deputy Head visited Cooking for Life and worked alongside students to produce their marshmallow lollipops which were added to the collage of flags. Students were excited to experience the innovative recipe and enjoyed working together.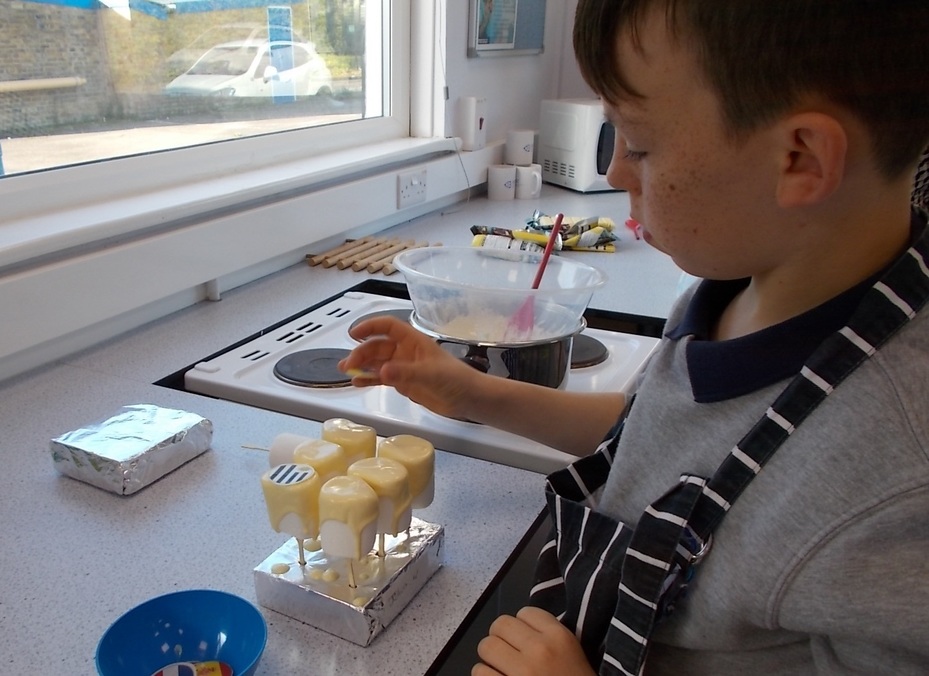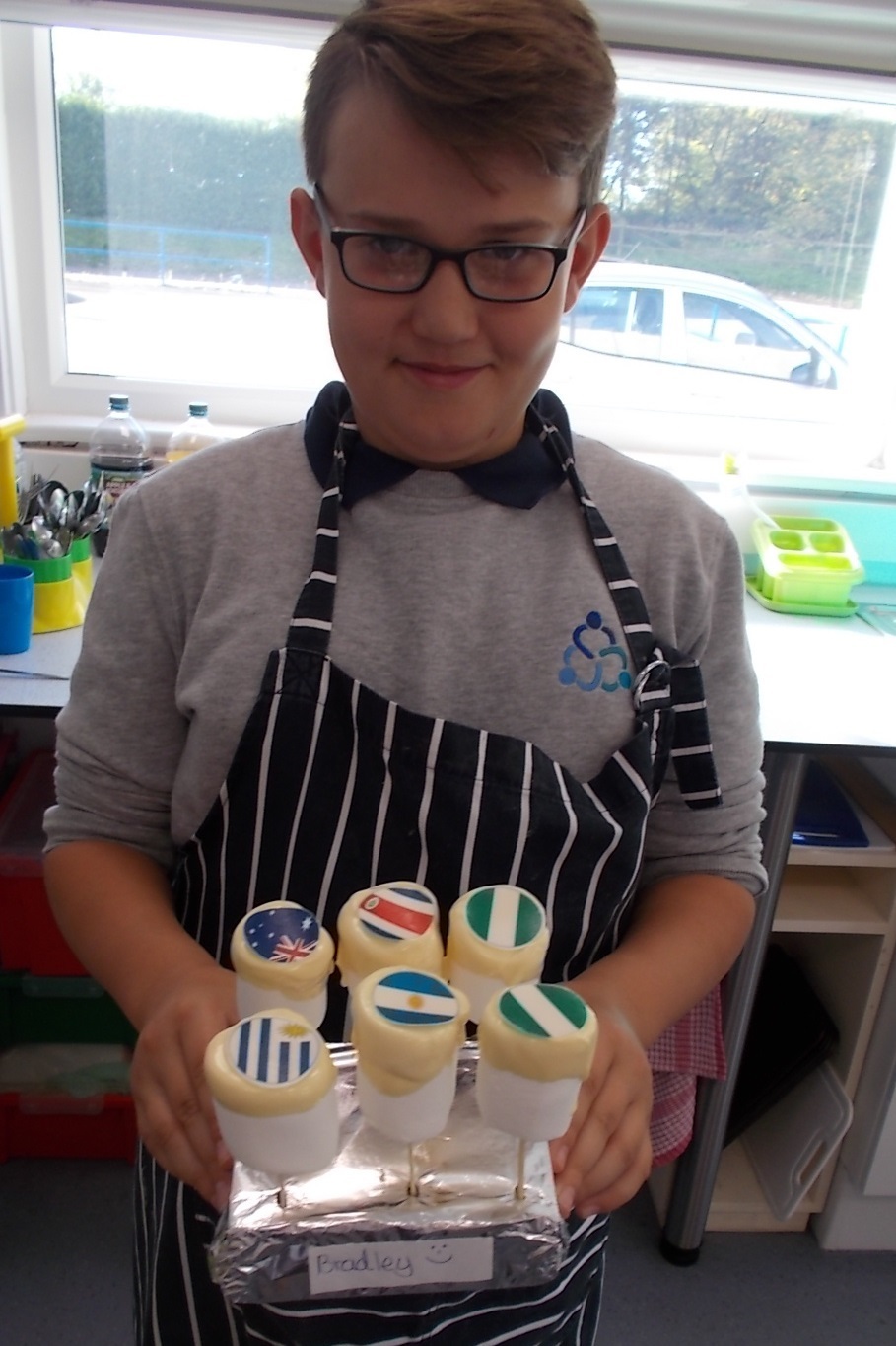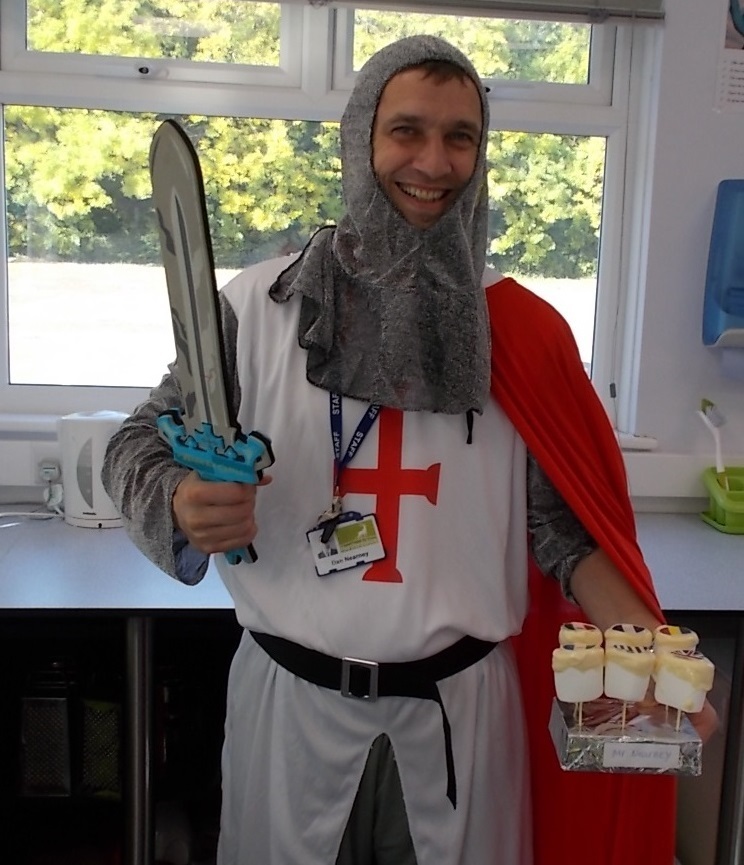 Students followed a written recipe to make chicken and bacon tortilla wraps. Students focused on the presentation of their completed wraps and presented them on Union Jack plates with serviettes.
Teaching staff visited Cooking for Life and encouraged students to think about the presentation of their completed recipe. Students exchanged ideas about what ingredients they could add to enhance their tortillas and evaluated each other's completed wrap. Students were excited to experience the innovative recipe and enjoyed working together.
Textiles
All staff were invited to Textiles throughout the day to sew a button onto individual cards that were also attached to the flag.  Students enjoyed working collaboratively with each other and with staff members throughout the day. Mr Nearney, the Head of SESC and Ms O'Sullivan, Deputy Head, visited Textiles and added their button cards to the flag.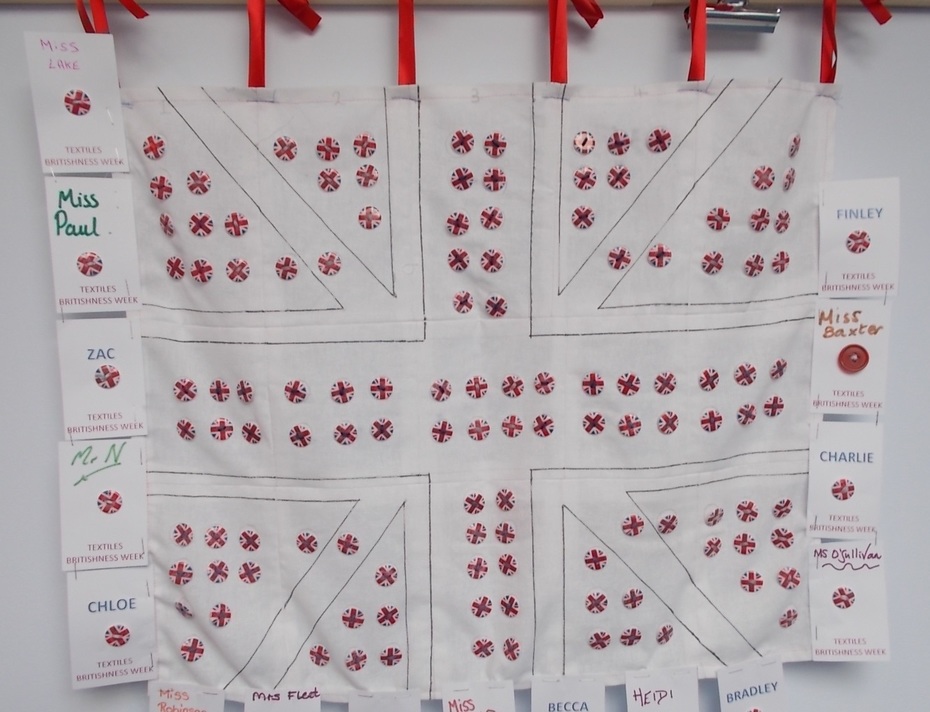 Projects
Mrs Elvin has been looking at British heroes from WW2 -including relatives of staff and students who were involved in the war.  Pupil work was put on display.